Mold Testing & Removal in Mesa, AZ
Are you living in the Mesa, Arizona, area and dealing with a mold issue? MoldGone is the region's leading provider of mold services and the top mold removal company in Mesa. Our local staff boasts exceptional training and knowledge. We use a patented dry-fog method that is accepted by the EPA. This method safely rids your home or building of mold spores and harmful pathogens! To explore your mold testing and remediation options, call the office today or reach out to our team using this website.
Local
Staff
Our mold technicians have been serving the Mesa, Arizona community for several years.
Top-Rated
in Mesa
Check out our positive reviews on Google from satisfied Mesa customers.
Guaranteed Satisfaction
Our mold removal company has provided services to thousands of local homes and businesses.
Highly-Trained Mold Experts
Our educated mold experts know you will love our services or your money back.
Mesa's Leader in Mold Services
MoldGone offers homeowners and businesses in Mesa top-rated mold services. In fact, our trusted professionals have helped thousands of local property owners. 
Our mold removal company is the best in the area because of our exceptional services and advanced technology. We promise to do the job correctly the first time or your money back. In fact, we won't leave your property until you are completely satisfied with our work. No matter if you need mold testing in Mesa or extensive remediation, our team can handle the job. 
We are a locally-owned mold remediation company and we are proud of our community. Because our technicians live in the region, we are your neighbors and friends. MoldGone always provides honest estimates and assessments and exceptional customer service.
Why Mesa, AZ Residents request mold services from MoldGone 
Here are some of the top reasons to choose MoldGone as your mold removal company in Mesa:
Local Pride
MoldGone takes pride in serving the Mesa community as the local mold remediation company. Providing top-quality mold services makes our jobs worth it. 
Superior Knowledge and Technology
At MoldGone, we use the most up-to-date mold testing. We also use innovative dry fog technology during the mold removal process. It's safe and involves minimal demolition. Call our mold removal company in Mesa to learn more.
What mold services does MoldGone offer?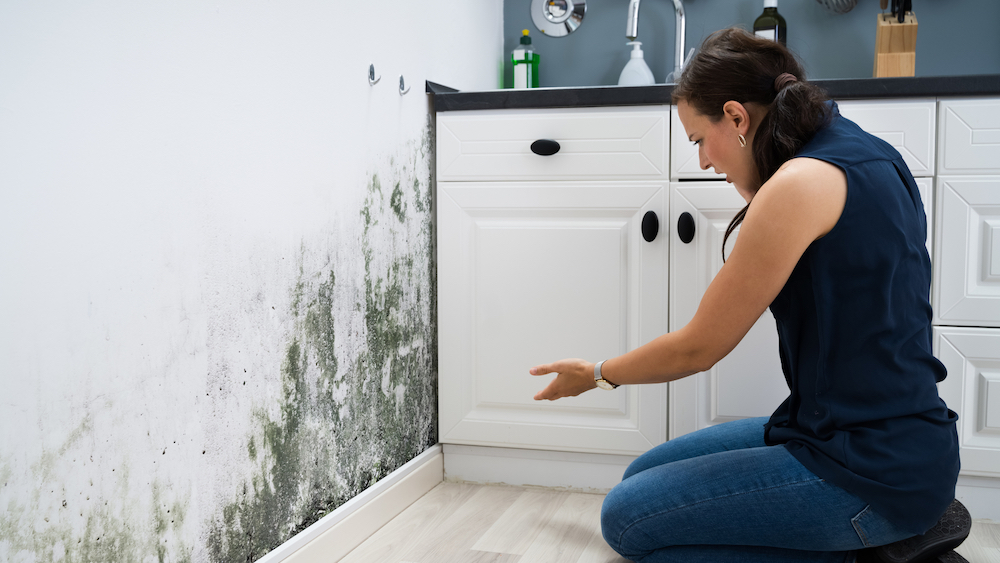 Here are some of the mold services we offer:
Mold Inspection
First, we ask questions to understand the size and type of your property. When we arrive, our team begins with a walk-through to look for visual evidence of mold or water intrusion. We use several advanced pieces of equipment to help with the process. We also test the air in search of dangerous airborne toxic mold spores. 
Mold Testing
Since we provide local mold testing in Mesa, AZ, we understand the strains that are most common in the region. We don't rush the process or overbook our schedule. We know exactly what to look for and take the time to answer all of your questions regarding mold testing. Because we take the time to find the source of the mold, it makes the mold removal process easier. 
Mold Remediation Mesa
Our mold removal company uses advanced dry fog technology for mold remediation. Dry fog is EPA-registered and safe for use around your family and pets. With dry fog, we don't need to tear down walls or ceilings to eliminate it. You don't even have to move furniture from your rooms. The tiny dry fog particles reach every crack and crevice on your property and keep mold from returning for up to 90 days.
Are you in need of mold removal services in Mesa, Arizona? Call MoldGone today to learn more about what we offer. You can also reach our team using this website.
Schedule your mold or harmful pathogen inspection today!
Or call 480-418-7228 to request an inspection with one of our mold specialists in Cave Creek, Phoenix, Scottsdale, Mesa and the surrounding cities in Maricopa County, Arizona.
Contact Us for Mold Testing & Remediation
MoldGone is the leading mold remediation company in Cave Creek, Phoenix, Scottsdale, Mesa and the surrounding cities in Maricopa County, Arizona. If you have mold on your property, choose the region's best local mold removal technicians. Call our office today to learn more or use this website to schedule your appointment.
Service Area
Also serving outside of Maricopa County for an additional fee.